Colombia bringing the heat
I love small airports in foreign countries. Not just because they are easier to navigate than their behemoth cousins, but because I feel way more adventurous when they roll stairs up to the plane and you make your way down metal steps and place a foot in this new and foreign place. This happened when I landed in Belize City back in 2013. A storm had rolled in above the city, and I clung to my hat and the wind and rain tried to steal it from my head. Despite the weather, I couldn't contain a too-big-to-not-be-kind-of-embarrassing smile.
Walking down the staircase in Cartagena, Colombia proved to be pretty exciting too. Instead of rain, dripping humidity coated my skin. The heat felt nice at first — an indication we had now arrived in said new and foreign place. Customs took an uncustomarily long time, but we made it through. It always racks your nerves standing there while a jaded airport employee mysterious taps at the keyboard, glancing back and forth at your passport. They have all the power, and you just stand there.
Once we legally passed onto Colombian soil, we headed straight(ish) for the ATMs. It's difficult to do much in a country without the currency. We tried to conceal our mini panic attacks as one, two, and then THREE ATMs provided nothing besides an error message in Spanish. Fourth time's a charm here in Colombia apparently, and we carefully stowed away our hundreds of thousands of Colombian pesos (it's pretty interesting that 1 dollar is about 3,000 pesos!)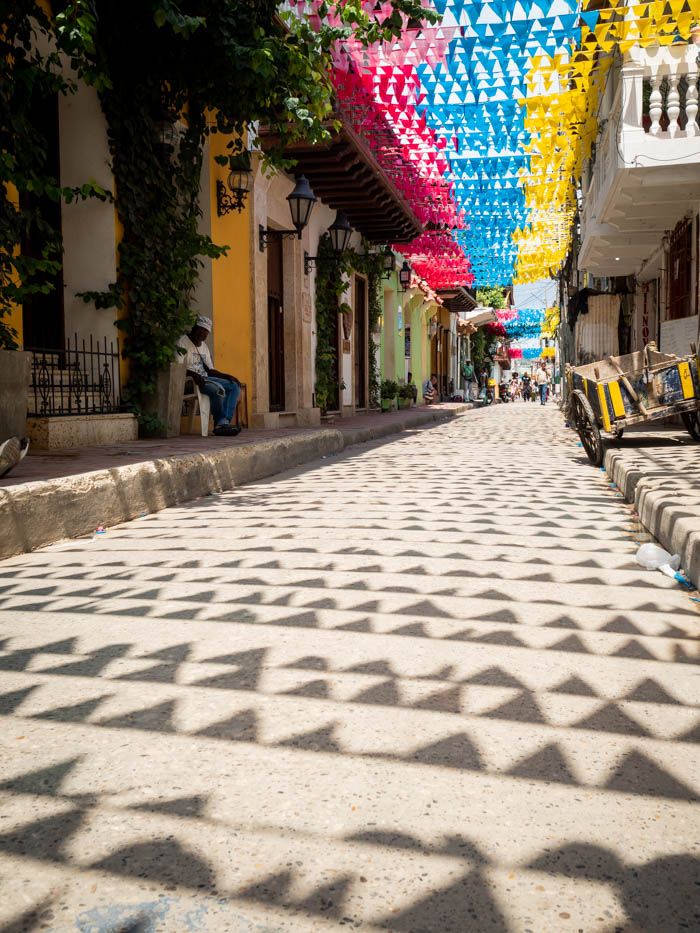 The taxi ride (always negotiated before getting into the taxi) proved to be a bit more expensive than we expected, but still came in at about $4 USD. No problem there. After a few quick turns from the airport, we zoomed along the beach soaking in our first view of the Caribbean. Another turn revealed a giant fortress rising up in irregular shapes across the ground. It was too early to check in to our hotel, so we left our luggage and headed out to find something to eat. We'd woken up about 3:00 that morning, and hadn't eaten anything since a pizza-for-breakfast in the Miami airport. We approached a small cafe where I manage to stumble through a few sentences in Spanish, asking the owner, Angelica, if they sold any food. As this was more of a hangout for beer, she kindly directly us a few streets over to a local restaurant. She assured us they provided delicious food at a good price . I listened attentively, trying to both remember the directions and keep up with what else she was saying in Spanish. Before we turned around to go, she complimented my avocado earrings. These earrings have proved to be a big hit with women in both Mexico and Colombia. Pro-tip for making yourself endearing to locals: buy earrings in the form of beloved local food and wear them every day.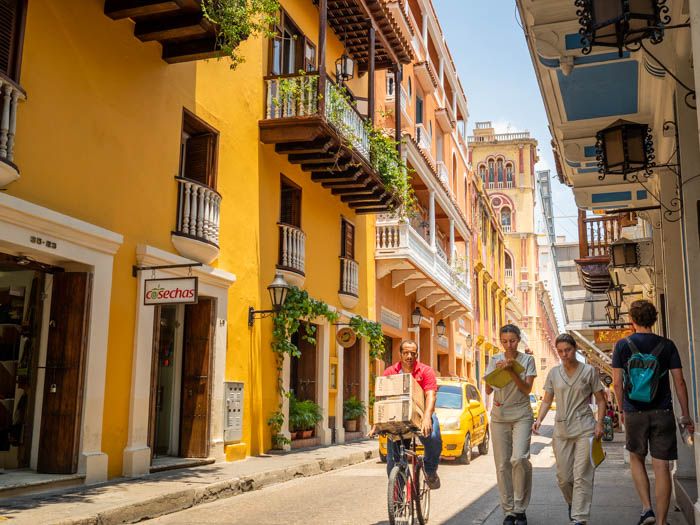 Angelica knew where to go. A cold beer, an entire fried fish, and a mountain of sides awaited us at the restaurant. From our table, I could see the women in the kitchen fanning flames set under giant kettles filled with soup. Specks of ash and fire swirled through the air as they worked through the familiar tasks.
After our hearty meal, we continued the day with a series of naps which eventually led to us just deciding to go to sleep for the night and see what more Cartagena had to offer in the morning.
Eating breakfast the next day at our hotel, we joined in communal sigh of relief with a sip from our first cup of coffee in Colombia. It was delicious, bold, flavorful and nothing like the burning hot, too watery, instant coffee which we found to be inescapable in Mexico. After filling our daypack, we wandered out towards the historic, walled part of the city. We spent the next few hours admiring the bright colors of the buildings, fruits, and clothing. We alternated between walking through the streets of the city and on top of the wall itself. A long time ago, the wall was built to protect this important port city from the serious problems of pillaging pirates and foreign rivals. Apparently, the wall did it's job for the most part and helped to protect the city's inhabitants from outside violence on multiple occasions.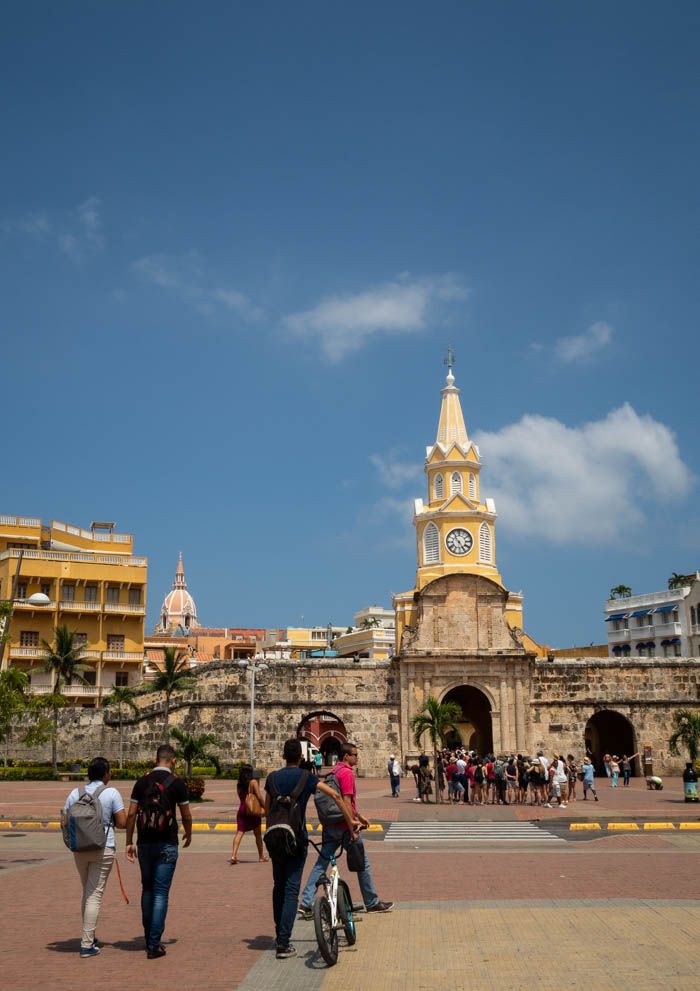 Not to say violence didn't exist within the city walls. The people the wall was protecting engaged in some pretty awful stuff. Cartagena was the main gateway into South America for slave ships and auctioning, and it hosted the South American epicenter for the Spanish Inquisition. You can barely begin listing all of the atrocities against the indigenous people of the region. From what I could see, the city didn't seem to be trying to hide it's history. The people and city of Cartagena seemed to be committed to reflection and education about these dark events.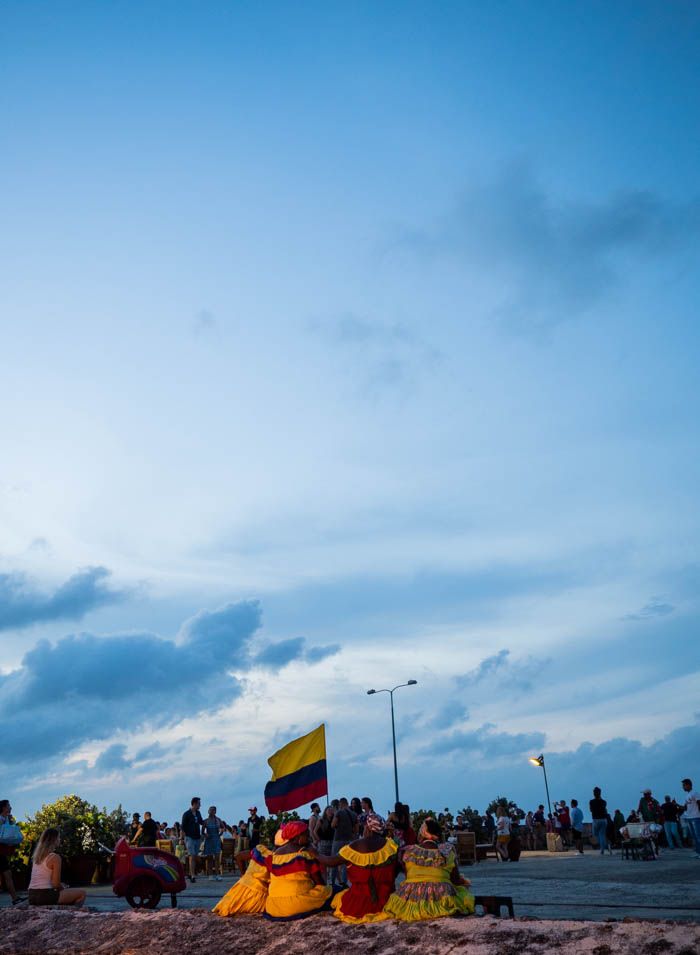 We ended the evening with a walk along the waterfront and devouring a few bowls of traditional Colombian soups. The ingredients sometimes seem strange at first, but always prove to be delicious. Our dinner conversation consisted mostly of what we would do with our time before we hiked the Inca Trail at the end of October. Our original, general plan was to spend the majority of that time traveling around Colombia, but now we were starting to come up with new ideas.
Our brief stint in Colombia already made us excited to see more of the country, but the Caribbean waters were enchanting us as well. While wandering through the city, we popped into a scuba diving shop to scope out diving prices for the area. We sat in air conditioned bliss listening to the options first in Spanish, and then confirmed them in English. We mutually thought the prices sounded fair and it was Caribbean, so that must be good, right? After leaving, we agreed we both knew nothing about scuba diving in Colombia so committed to preliminary research that afternoon. A few google search led us to islands off the coast of Nicaragua but still part of the Colombia—Andrés and Provencia. The diving looked good, but the distance got us thinking a little further out into the Caribbean.
Lane proposed the idea of visiting Curaçao, a independent island nation in the Dutch kingdom, not far off the Venezuelan coast. Earlier in our trip, Lane mentioned his childhood dream of sailing between Caribbean islands. We might not be able to do that this time, but we quickly became enamored with idea of venturing to an island and bypassing the dives here on the coast.
So, at dinner we weighed the costs and benefits of foregoing some time in Colombia for some time on a Caribbean island. It definitely wouldn't meet our $100 USD/day budget, but...it seemed really, really cool. The brutal heat of the Colombian Caribbean coast created a stuffy environment for making decisions. Despite my Houston roots, I feel pretty acclimated to cold climates now and feel like I've lost a super power I once possessed—being in 100 degree weather with 1000% humidity and not thinking much of it. We decided to sleep on it, after all, we had just arrived in Colombia and it felt silly to already be planning our departure.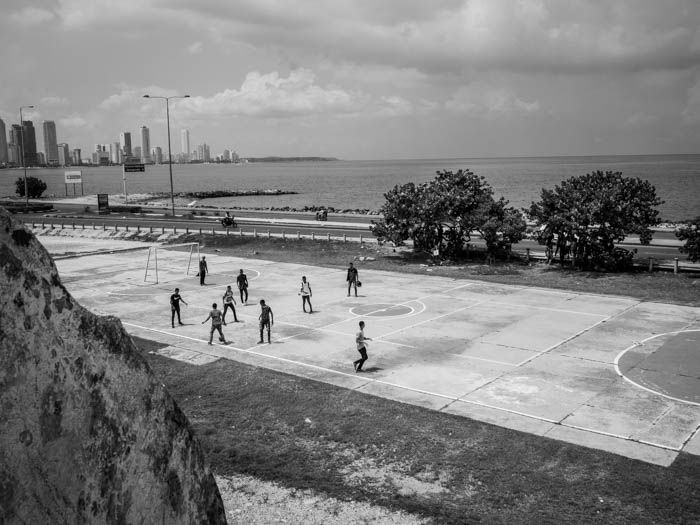 The next day, we headed to Castillo San Felipe de Barajes. This giant fortress, the same one we saw from our taxi ride, was constructed over the course of several decades to protect the Spanish colony from a British invasion. The Spanish in Cartagena had narrowly survived an assault by the British once before in an Alamo-esque, battle to the final stand. There used to be a much smaller fort on top of a hill and it was somehow enough for them to barely escape British conquest. After this extremely close call, the Spanish decided to expand the fortress into the massive structure it is today. The size and shape of the current fortress are unusual because the fortress engulfs both the original fort and the entire hill as its backbone. There are numerous secret passageways and networks of tunnels, false ramparts to trick and confuse the enemy, and enormous cannons to bombard and terrify any invaders. The engineering and design seemed to have done the trick; no one ever tried to invade Cartagena again.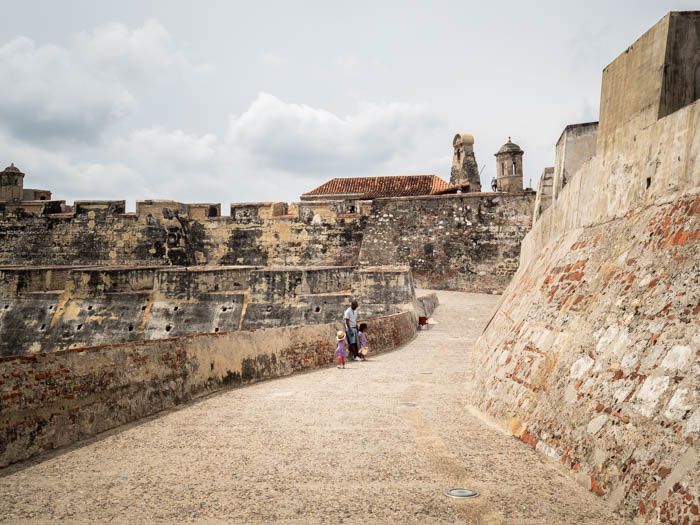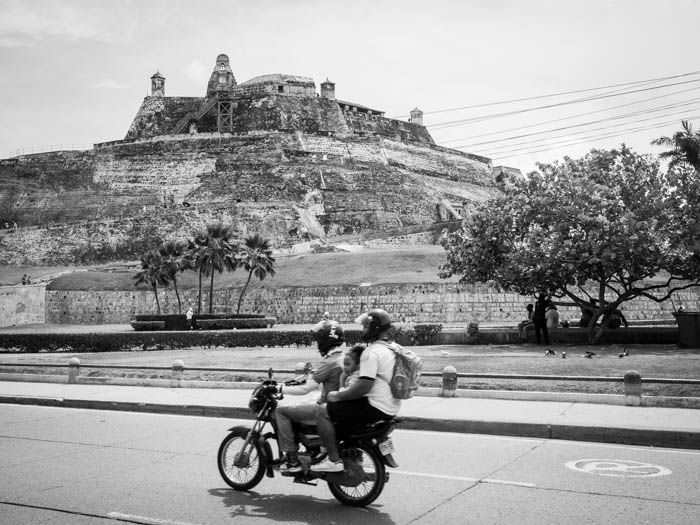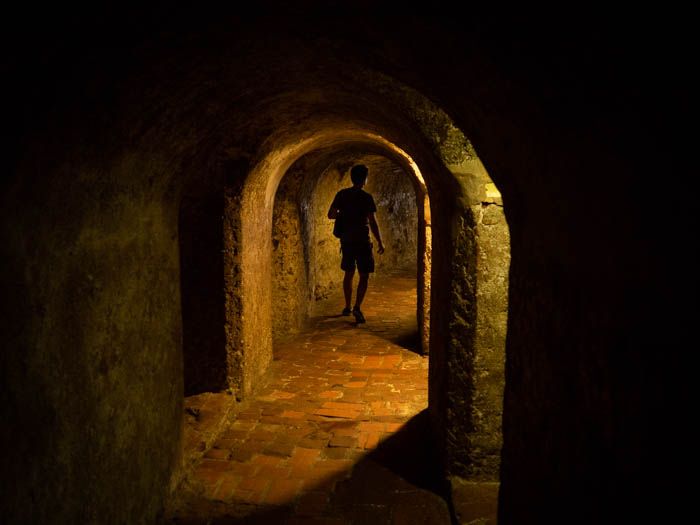 After lunch, we worked our way through the Colombian naval museum (in Spanish) and I got to pretend I was in the Colombian Coast Guard.
After our full day of exploring the city, our conversation drifted back to diving in the Caribbean. Running some checks on flights, we realized it probably wasn't going to be cheaper to access Curaçao and maybe it's neighbor, Bonaire, from anywhere else. Getting to an island is always expensive, and this would be the most less expensive chance we would have. Flights were cheapest out of Bogotá, the capital. Perfect! We were playing to go there anyway, as it would most likely be the best place to fly to Cusco, Peru for our upcoming Inca Trail trek at the end of October.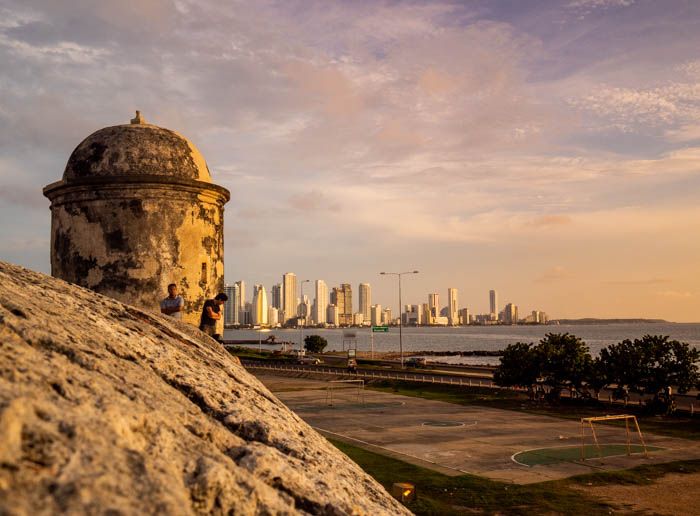 This all started to feel feasible. Still a little nerve-racking, still expensive, but very exciting. The climates on both Curaçao and Bonaire sounded more welcoming than the Colombian coast, further enticing us. If we are serious about enjoying some island paradise in the Caribbean, maybe it would be a good idea to move inland and see what the mountains of Colombia have to offer. With a string of ideas that we didn't know exactly how they would connect, we booked plane tickets to the city of Medellín, in the center of Colombia. We enjoyed our few days in Cartagena, but we satisfied and ready to move inland to cooler weather and higher elevation.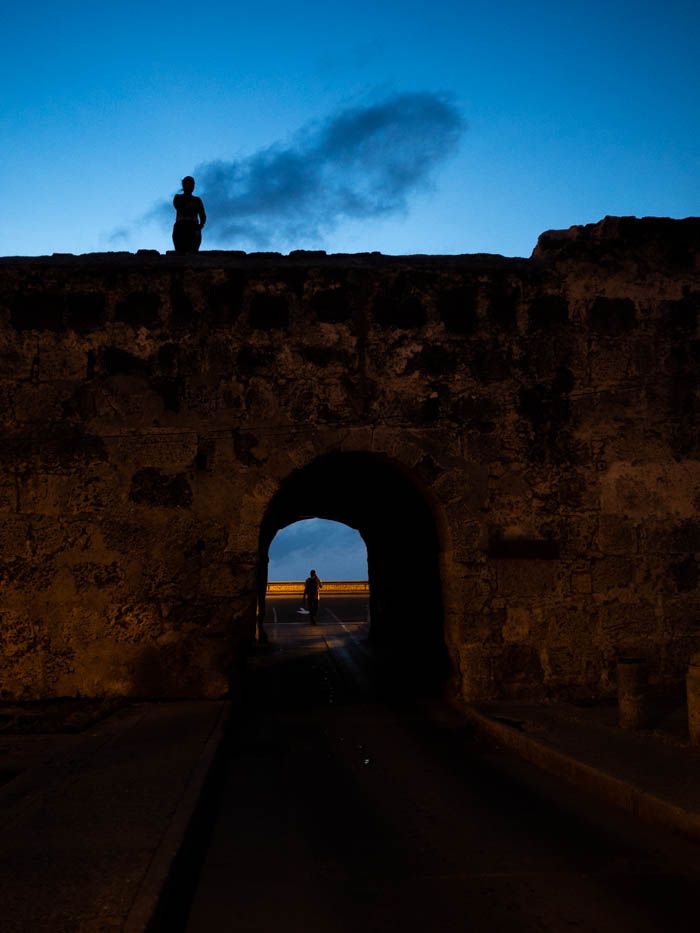 Now, a rough idea of where we will be until we step foot on the Inca Trail is starting to take shape. We are still giving ourselves plenty of time in destinations, and enjoying the benefits of moving more slowly. Less time on buses, less time packing and unpacking, and more time to get to know a destination. Looks like opportunistic travel is already paying off for us here in Colombia. Right now, we are enjoying the "eternal spring" of Medellín (a local reference to the mild weather), and we will be heading to the adventure capital, San Gil, later this weekend. Afterwards, we'll head to Bogotá before we fly to Curaçao and Bonaire to dive like we've never dived before!